The Kawaii culture makes one think about innocence, pastel colors, anime, and frilly dresses. Furthermore there are specific makeup looks and hairstyling techniques which define the Kawaii fashion in its full glory.
The whole Japanese contemporary culture Kawaii is an essential part of Japan's rich tradition and cultural values. It is a significant part of everything from food to music, fashion, lifestyle and much more. Let's dig deeper into the eye-catching Kawaii inspired cultural elements.
The boom of Kawaii culture
The cultural phenomenon of Kawaii began to experience its boom in 1970's during WWII. Japanese girls started using mechanical pencils to make their handwritings elaborative with small shapes like hearts and stars. This handwriting is called Marui-ji that means round writing. Today, the usage of emoji is also influenced by the aforementioned round writing technique. Due to challenging readability of the text, this handwriting was banned from many schools. However, later in 1980s it became widely adopted in advertisements, comic books, and entertainment magazines.
Etymology of the word 'Kawaii'
The word Kawaii dates back to Japan's Golden age, and is an amalgamation of two Japanese words, 'kaohayushi' and 'kawayushi'. The first means 'flushed face', or 'a face of glow', and the latter means 'vulnerable, small, cute, pitiable, or innocent'. Both these words came together to depict the true meaning of Kawaii from Heian and Muromachi Periods respectively.
The word underwent many transformations over time, and is now loosely translated to cute and adorable in addition to more explanatory words like admirable and loveable. It makes one feels warm, fuzzy, and wrapped with cutesy aesthetics and we can say that it is an embodiment of positive and joyous vibes.
Kawaii Fashion Characteristics
There are some essentials which add up together to make up the Kawaii culture. Although a lot of diversity is observed among Kawaii characters but within the diversity, all Kawaii characters look the same. Juvenile bodies, flushed cheeks, round eyes, and specific hair styles distinguish Kawaii characters from rest of the anime. The hairstyle and makeup looks add further definition to the whole kawaii look.
The Kawaii concept follows the baby schema, which considers the large head in contrast to a bubbly and tiny body. In a very normal human body development, the brain grows to the adult size while the body is only half reproduced and is in pre-teen or childish zone. Kawaii figures are illustrated as superficially infantile characters with large head and face, and a small body and underdeveloped sexuality – a picture of pubescence.
Kawaii Hairstyles
Probably the cutest thing about Kawaii culture is its super awesome hairstyling technique. It's easy as well as fun and anyone can conveniently hop on the band wagon. We have picked 10 cutest hairstyles which you can try to add a cute touch to your look. So, when in Japan, do not be afraid to get Kawaii. All you need is a fancy Hello Kitty shaped purse, or a colorful trendy tee with a cute anime or manga face printed on it or if you are too shy for such things, a Disney phone case can also do the job for you.
If you want to create a fun Kawaii look or if you are planning to flaunt a Kawaii cosplay costume, go ahead and read this article to get full hands on guide and options for Kawaii hairstyles.
1. Braided Headbands
Kawaii hairstyles usually incorporate braids within them. Our first pick also includes some cute braiding technique. Few hair strands from the front are braided into a sideways braid and pinned at the back of the ear. It does not only give an illusion of actual head band, but also looks super professional and well done.
2. Bun Knots
Buns are very popular among Kawaii fans. Depending upon personal preferences, one high bun on the temple of the head or two small piggy buns style is chosen by girls. In Korea, you will notice a lot of elementary and high school girls flaunting this convenient yet super cute hairstyle on a daily basis.
3. Bow with Curly Locks
Kawaii culture loves bows. Either bow shaped hair accessories are used to achieve the look or hair is shaped into a bow itself for a more professional and cuter hairstyle. Bows made of natural hair are the true essence of Kawaii fashion. Hello Kitty looks are incomplete without this classic Kawaii hairstyle.
On the other hand, fishtail or French braids are also incorporated with bow hair accessories. School girls love this look and undoubtedly, it'll add a great deal of cuteness to your personality.
4. Silky Straight with Bangs
Koreans commonly have straight hair. The silky texture and smooth look is itself a major part of Kawaii inspired hairstyles. Straight hair with front fringes are very popular. Many Kawaii anime characters also have this same hairstyle. It is super easy, natural, and a totally manageable Kawaii hairstyle option if you want to keep it subtle and cheeky.
5. Kitty Look
How can we forget this hairstyle? When one hears the word Kawaii, Hello Kitty is probably the first character which comes into mind. All over the world, the pioneer of Kawaii culture has millions of fans and this hairstyle is going to blow their minds. It might look complex and hard to perfect but practice will take you there.
Hairstyle with kitty ears screams Kawaii and is totally an epitome of cuteness.
6. Short Bob
Convenient, manageable, sleek, and cute. The short bob with bangs hairstyle is our next pick. No matter where you are in the world you can flaunt this look with ease. It is specially amazing for hot seasons and will keep you cool and cute all day long.
7. Royal Kawaii Hairstyle
We understand that you might be searching for some extra Kawaii hairstyle, and hence, this shall be your top pick. Loaded with cute accessories, heavy curls, and massive volume, the royal kawaii hairstyle is self-descriptive.
Girls who are die hard Kawaii fans and follow cute fashion trends religiously, love this look. You can commonly observe many girls flaunting this extra look at cosplay conventions, Kawaii fashion weeks, and in theme parties.
8. Emo Blinding Bangs
Another interesting Kawaii hairstyle features blinding bangs. This particular hairstyle is specifically donned by various anime characters in anime and manga TV shows and movies. And many fans have followed the trend. Short or long length hair with long bangs on the front are extremely emo and very chic.
9. Twin Pigtails
The cute culture leaves no opportunity to incorporate every cheeky style and trend and hence, pigtails are an immensely popular hairstyle among Kawaii fans. It is not only perfect for daily wear, but also adds a lot of personality to the character. Wear it daily to school or college, or even at the parties. As low key as this one may seem, the cuteness is still overflowing and attractive.
10. Lolita Hair Dos
Lolita hairstyles are chosen mostly for cosplays, dramas, or stage plays. Heavy use of hair accessories and Kawaii headbands, Lolita hair dos add serious Kawaii drama to your whole look. They usually feature two sided pony tails styled with crocheted bands and silk ribbons.
Kawaii Hair Accessories
After reading about these super cute Kawaii hairstyles and getting awestruck by their vibrancy and vividness, you might be thinking that which accessories will complete or enhance the Kawaii look further. In this section we are going to familiarize you with the cutest Kawaii hair accessories which are used commonly to give the hairstyle some extra cuteness.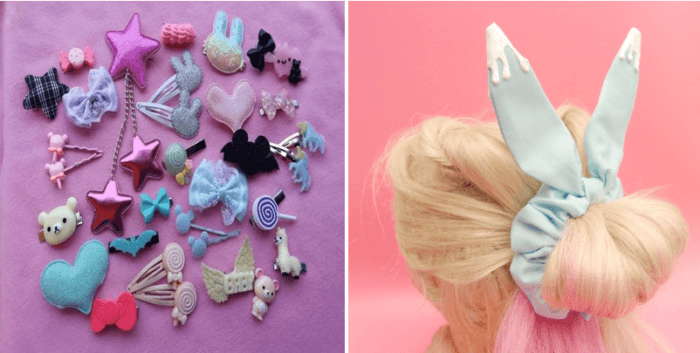 As we know that Kawaii culture is all about cute characters. Even the scariest animals like lion or cheetah can be converted into Kawaii characters which will totally banish their furiousness. Similarly, Kawaii hair styling accessories include animals inspired variety. Designs with bears, pandas, unicorns, lions, elephants, and rabbits etc. are commonly available. Big, round eyes and chubby face shapes multiples the cuteness of accessories as well as of the hairstyles.  
Furthermore, bunny ears and bows are very popular hair accessories designs too. Fluffy hairbands with rabbit or kitten ears and loved by Kawaii fans.
Inanimate objects are also turned into Kawaii aesthetics by adding cute round eyeballs and lips for making them appear lively and cute.
Conclusion
Kawaii hairstyles can add a lot of cuteness to your attire and personality. Colorful hair accessories and headbands are used to add definition to Kawaii hairstyles. From an economically benefitting trend to a mighty social influencer, Kawaii has become a worldwide phenomenon.
The complete meaning of Kawaii cannot be summed up as it has deep roots into Japan's cultural history and in today's world, it has intermixed with modern techniques and mannerisms which have reshaped some of its elements. Our ten picks highlighted in this article are suitable for everyday classes at school, evening outings with friends, or late night Kawaii inspired parties.
Cities all around the world are now crowded with cute street arts, characters of anime and manga, and popular shops. The Kawaii in Japan is unstoppable and has already influenced a large number of men and women. People show too much attachment to Kawaii and dress up as anime characters with distinctive hairstyles because they find it youthful with an evolutionary and rebellious impulse. It also allows them to escape harsh realities of life.