What is Kawaii Fashion?
The Japanese word 'kawaii' (pronounced kuh-wah-ee) means cute/adorable, and refers to the culture of cuteness. Kawaii is used to describe people, objects, acts, and even fashion. Therefore, kawaii fashion consists of cute pieces that highlight innocence and youth. How to Dress Kawaii is fairly easy to achieve; you just have to keep a few key facts in mind. Looking at characters like Pikachu and Hello Kitty, the cuteness is usually achieved with child-like clothes, large eyes, rounded features, blushing cheeks, and a fresh-faced glow.
There are some basics to know about kawaii fashion, but after that, you should experiment and develop your own style!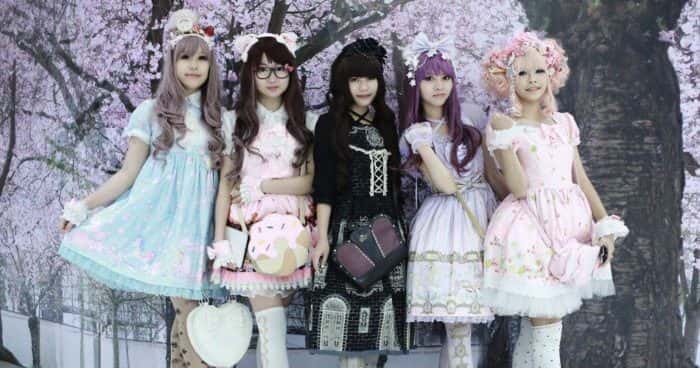 Different Kawaii Styles
Lolita
Lolita fashion refers to a style influenced by the Victorian, Edwardian, and Rococo periods. This consists of blouses, skirts, knee socks, and hair accessories, which differ from category to category. Lolita fashion has many categories and sub-categories that will be explained in this article.
Sweet Lolita
The Sweet Lolita style focuses on cuteness and femininity and is the most child-like of all Lolita styles. It follows a pastel colour theme, which includes mint green, baby blue, cream, lavender, and dusty pink. Skirts are bell-shaped and are commonly worn with bloomers. Details such as ruffles and bows are typical of this style.
Motifs include sweets, hearts, animals, and stars. Accessories like parasols, lacy knee-high socks, head bows, tiny purses, and mini hats are common. Child-like hairstyles like pigtails, braids, and buns are essential, and hair is usually curled. Some individuals with this style wear pastel wigs as well.
Classic Lolita
Classic Lolita style is known as the pure and mature style for its simple and conservative fashion. Classic Lolita is the most historically inspired. It consists of floral-printed or solid-colored dresses, an emphasis on elegance (as opposed to cuteness), and muted colours like brown, ivory, beige, navy blue, and jewel tones.
In addition to floral prints, paintings, books, clocks, and crowns are seen in Classic Lolita designs. Classic Lolita skirts are mostly A-line instead of bell-shaped. They are longer than other Lolita skirts and usually include details like pin tucks, ruffles, and embroidery. Bell-shaped petticoats are seen but are not as common as A-line skirts.
Makeup is simple and natural, and hairstyles include braided up-dos, bobs, curls, and waves. Hair accessories include headdresses, head bows, flowers, and hats. Mary Jane shoes complete the look.
Gothic Lolita
Gothic Lolita fashion uses colours like black, navy blue, purple, white, gold, and wine red. Motifs such as crosses, spiders, coffins, gothic architecture, and roses are common, exuding a mysterious, dark vibe. Goth and Victorian-inspired styles result in bell skirts with petticoats.
With dark lipstick and defined eyes, the makeup remains impactful, but subtle in all other areas, including a very light blush. Hair may be left straight or curled and adorned with headdresses and bows. Jewelry is usually silver and metal-toned. Lace chokers, lace gloves, and rosaries complete the look.
These are the three main Lolita categories, but there are many subcategories that stem from a mixture of these:
Nautical/Sailor Lolita
This is a themed How to Dress Kawaii look which is usually used at beach parties or in the summer months. Inspired by sailor uniforms, strips, hats, prints like anchors, and sailor collars are used to create this look.
Country Lolita
This style is especially popular in Summer and Spring. It evokes a picnic theme by using gingham, straw hats, straw baskets, and bonnets. Inspired by Victorian farms and the countryside, wicker purses and straw elements are used to turn the regular Lolita look into a Country Lolita look.
Casual Lolita
This is simply a more casual and toned-down Lolita look. It's more wearable than other categories and is great for beginners just dipping their toes into the world of Lolita fashion. The petticoats in this style are less full, the blouses are simple, the colours are neutral, and non-Lolita accessories are used.
Hime Lolita
Hime Lolita is a style that focuses on being princess-like and extravagant. The look is intended to be rich and elaborate, with materials like silk and chiffon being used, and embroidery and detailing being front and center. To emphasize the princess-like quality, crowns, pearl jewelry, and tiaras are used along with detailed hairstyles.
Guro Lolita
This grotesque Lolita style is usually seen around Halloween. Fake blood, distressed fabric, bandages, and eye-patches are used to further the illusion.
How to Dress Kawaii Ero Lolita
This look toes the line between cute and sexy. It aims to be provocative without being revealing. Instead of showing skin, they use accessories to their advantage. Materials like chiffon and leather are prominent, and lace tights, corsets, fishnet tights, and gloves are common. These are paired with garters, high heels and platform shoes.
How to Dress Kawaii Punk Lolita
Punk Lolita style is more casual than other styles and is inspired by the Punk movement. Skirts in this style are generally shorter and use patterns like stripes and tartan. Punk Lolita is also characterized by distressed fabric, layers, studs, and chains incorporated into feminine blouses and skirts.
Aristocrat Lolita
This style takes inspiration from period films and aims to integrate elements from these films into Lolita style. With long skirts and plain attire, this is a more serious look. Abandoning ruffles and lace, simplicity is the key to this look.
How to Dress Kawaii 2020 Kuro and Shiro Lolita
These use the Lolita framework, but replace the colour with all-black (kuro) or all-white (shiro).
Pirate Lolita
This themed look can be used at beach parties. It consists of eye patches, pirate hats and corsets.
Qi Lolita
This is How to Dress Kawaii Lolita style inspired by Chinese culture and clothing. It uses traditional Chinese clothing such as a Qipao and uses it as a base for a Lolita dress.
How to Dress 2020 Steampunk Lolita
This style combines Lolita fashion with steampunk elements. Colours like brown, bronze, and cream are used, and materials like leather are incorporated into the design. Brass accessories finish the look.
How to Dress Kawaii Bittersweet Lolita
A variant of 'Sweet Lolita', this look adds the color black to the traditional Lolita dress.
How to Dress Kawaii Wa Lolita
This is a classic Lolita style, but uses traditional Japanese clothing to achieve the look. Usually resembling kimonos, the Wa Lolita style uses Japanese prints to make the look cohesive.
Hijab Lolita
This takes any variant of the Lolita style and adds a headscarf to it, making it a good option for Muslims who want to get into Lolita fashion.
Dress Kawaii Decora
Decora is the second most popular kawaii style. It uses jewelry and other accessories to set it apart. How to Dress Kawaii overuse of accessories is common in this style and may consist of colourful bracelets, hair clips, hair bows, and other bright accessories.
This style is characterized by bright colours and loud patterns. It's playful and child-like, and focuses on colors and accessories instead of clothing itself.
Kawaii Makeup
With high blush placement and a bright blush colour, you can achieve the youthful kawaii look. Kawaii also focuses on large eyes, so using nude eyeliner on your lower waterline can help in opening up the eyes. Circle lenses are also available for those who want to make their eyes appear larger. Winged eyeliner, highlighter on the high points of the face, and shiny lip gloss will complete your look.
Kawaii Hair
As seen in the Lolita section, kawaii hair usually includes pigtails, head bows, headbands, and braids. Child-like hairstyles are a key feature of the kawaii look and can be accessorized with cute hair pins.
Add a tiny bag and Mary Jane shoes, and you will have achieved the ultimate kawaii look!