When it comes to cosplay, everyone wants to look their best. Cosplayers don't only want to recreate their favorite character, but they want to be the character. Imitating any character's costume to perfection can be a difficult task which requires intricate detailing. While making a costume many things need to be under the cosplayer's microscope like color, fabric, stitching, accents and the exact design. The most essential element in all of these is the fabric. To recreate the outfit perfectly, choosing the right fabric is essential.
Whether you are making a cape for Superman, a onesie for Pikachu's soft and squishy body, or Cinderella's gown – if you fail to match the attire with the feel and material of fabric, the outfit can look pretty bad. Not to fret, this guide not only tells you about how to choose the right fabric but also differentiates various kinds for you ease and understanding. To become a successful cosplayer, it is necessary to know the nitty gritties of designing and styling outfits as it is the main part of cosplay.
There are many types of synthetic fabrics available in the market to aid in creative costume designing. Before diving into that, let's look at the main difference between natural and synthetic fibers.
Natural Fibers
First come the natural fibers, these include the conventional and primary fabric types. Following are the most commonly used natural fibers for cosplay costume designing.
1. Cotton
Natural fibers have strong hygroscopicity. They are soft, breathable, easy to dye, and heat resistant. The fabric is easy to sew, cut, and is shrinkable if required. With cotton you get extreme heat resistance but make sure to not over press it with an iron. Cotton can be used for the basic lining for heavy costumes like gowns. For summer time conventions, this fabric will save you from the heat.
2. Silk
This natural protein fiber can be used in multitude number of ways. Who doesn't love the smoothness and silky soft touch? This fabric is best for making princess gowns with great draping and exquisite shimmer and luster. It is an extremely flexible material. One amazing property of silk is that it stay cool in the summers and warm in winters.
It also has an insulation property which allows it to absorb moisture a lot before actually feeling wet to the skin. But the delicacy of silk makes it hard to handle while sewing and designing. It is not easy to wash and doesn't let go of the stains easily. Also, it can be a bit pricey when it comes to preparing huge gowns of high quality material.
3. Linen
The next durable and commonly used fabric is linen. This one can be a perfect choice for a beginner. It is a very tensile fabric which is more durable than cotton fiber. It is also very breathable and has strong heat resistance. Linens come in variety of colors but they cannot be dyed easily. Therefore, if you are looking for unique hues of a particular color and it is not available pre-dyed, we would not suggest doing it yourself – linens do not accept the color coats easily.
4. Wool
Wool is an extremely suitable option for costumes in winter season which include jackets and sweaters. Whether you are recreating the Jon Snow outfit from Game of Thrones or stone-age costumes, wool can come in very handy. Furthermore, wool is extensively used for making wigs. It is highly breathable, flame retardant, and even safe from UV rays. The downsides of using wool can be that it is bit expensive and is counted as a luxury fabric. It is also not easy to maintain and wash.
Synthetic Fibers
Artificial fibers are preferred big time while designing cosplay costumes. The variety, durability and functionality of these fabrics provide a wide palette for exploration. Some widely available and commonly used fabrics are introduced below:
1. Nylon
Nylon is very suitable for hosiery and knitted costumes. It has great strength and durability. It is very elastic and can easily be washed and ironed. Also, a good thing about nylon is that it can easily be dyed into multiple colors.
2. Organza
Organza is a popularly used fabric for bridals and it is equally good for cosplay costumes. You can use it for skirts, princess gowns and other girly costumes. This fabric gives a luxurious, fairytale feel because of its lustrous and sheer finish. The puffy and sparkly look makes it suitable for use in hair accessories, shoes and jewelry as well.
3. Spandex
Spandex is also known as Lycra. It is an extremely elastic fabric and is used for statement dresses. Spandex is mostly used for sporty costumes and swimwear. The fabric can be a little hard to handle because of its elasticity and slipperiness.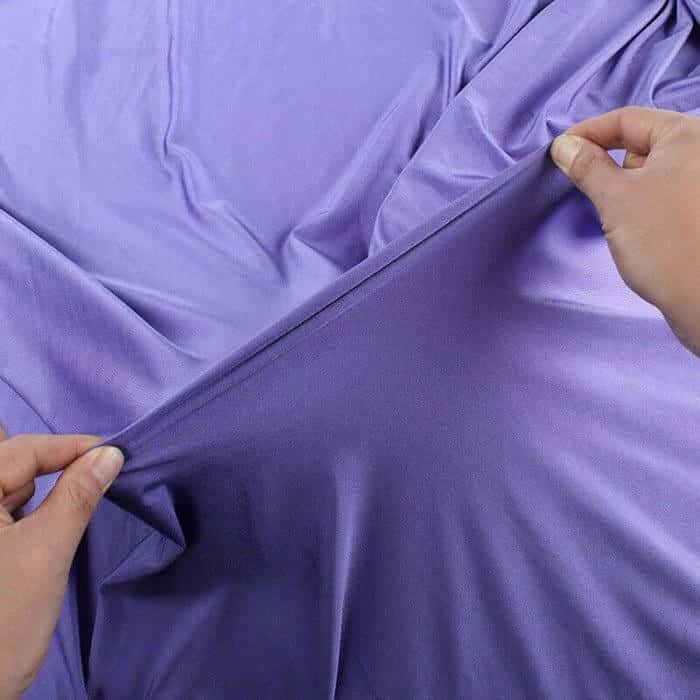 4. Neoprene
Neoprene is a famous fabric among cosplay costume designers. It is a synthetic rubber and is perfect for detailing and accessorizing the costumes. This material is mainly used for making DIY weapons, armor and elaborate head pieces like crowns or horns since it is malleable and does not harm the body.
In addition, there are many other fabrics available which can cater to different needs of your costume designing tasks. We have covered the main materials but we suggest you study all the possibilities in order to make the right decision for your costume.
Working with fabric for your cosplay costume
We hope that you are now familiar with different types of fabric you can choose from. Next, we bring you the ultimate guide for working with the fabric and understanding which fabric to choose. This decision has many implications on your final product and can make or break your cosplay costume. When it comes to cosplay costumes, the right fabric might not be your favorite one or the most comfortable one, but the one which helps you imitate the character accurately.
Therefore, to make the right decision with the fabric, follow these steps and take your time in doing the necessary research before spending money.
1. Know your costume
Before buying anything for your costume recreation, study the costume thoroughly. Download various pictures of the character from the internet and analyze it from all the angles. Try finding some prior work done by other cosplayers. Check what kind of fabric will help you achieve the drape, stitching and texture similar to the real one. Jot down all the necessary points you notice.
You can ring up your friends and fellow cosplayers to know their opinion and suggestions for designing the costume. Someone with experience in similar costumes can be a great help.
2. Have the right tools and equipment
Well, for any craftsman, tools and equipment are like their best friend. Same is the case for cosplayers. To design a breathtaking costume you need to have all the necessary tools. A sewing kit, sewing machine, and craft supplies are the basic and primary things.
Moreover, depending upon the costume and the intricacies involved, sequins, beads, cardboard, foam, glue gun, and stationary supplies will be required. So make sure you make a list prior to starting the work on your costume. Otherwise, unavailability of tools will make the task difficult and frustrating. You will keep losing focus which may affect the quality of your final product.
3. You can't keep your comfort on the top
When it comes to costumes, comfort is not always an option. Sometimes the costumes include latex material, stretchy fabrics and even PVC. Don't feel hesitent or intimidated by it. Just go with the flow and keep your eye on the prize i.e. the perfect costume. You might have seen cosplayers recreating complex characters like Hulk, Iron Man, and even Tin Man. Such costumes aren't the most comfortable, but it's all worth it when you get praise, feel good, and actually translate the true meaning of the chosen character.
4. Understand the patterns and textures
Before you go on and buy yards of fabric, take a close look at the different patterns and textures involved in the costume. Some costumes involve multiple layers of different types of material. Professional cosplay designers work with various fabrics at a time to make the perfect outfit. So it is essential to develop an understanding for not only the fabric, but also its different colors, textures and patterns.
5. See if the right colors are available
Sometimes, it is not always possible to get your hands on the required fabrics in specific colors. For the costumes to match perfectly to the character's original look, the colors have to be the same. You certainly cannot replace the red in Superman with maroon. It will completely ruin the look. Hence, study the fabrics properly and run a search to know what colors are available and how conveniently you can get your hands on them. If they are not available, you might have to rethink your costume.
6. Durability
Finally, before buying the fabric, make sure it is durable. Mostly the costumes are worn for the whole day at conventions or for stage performances. Thereby, it is extremely important to make sure the quality is at par. If the fabric is made up of poor quality fibers it can ruin the costume. The colors should be permanent so they don't stain your body, and the stretch has to be elastic enough – neither too less nor too much. Secondly, breathability is important too (although it cannot be achieved with PVC fabrics because of the non-porous surface).
Final words
Knowing the fabric and your costume inside out helps you in picking the right fabric. Keen attention must be paid to the feel, color, texture and fiber of the fabric. You should observe them properly in day light as well as artificial light. Check the refraction, transparency, stretch and durability of the fabric. It is imperative to know whether the kind of fabric stay resistant at the time of cutting and shaping or not.
Without any prior experience, making your costume can be tiring and time consuming. Start from simple fabrics which we have described in this article. Make sure you spend your cash on the right product, and make a costume that is reusable and easy to maintain.