Fashion for cosplay fans – Men T-Shirts & Polos
T-shirts are simply comfortable, uncomplicated to wear and combine. They are easy to wash, pleasant on the skin and of course available in all kinds of designs and colours.
Of course there are also special t-shirts and polo shirts for cosplay fans. As with neutral T-shirts, there are also a number of different styles to choose from:
Long sleeve shirts
Baseball shirts
V-neck
round neck
short or long sleeves, tight fitting or with loose fit
of light, medium or thick fabric
In view of all the many options, many a person asks what to choose. We have therefore put together a few tips for you here, which of course apply to all men's T-shirts – whether classic or cosplay, Kawaii, Kpop, etc.
From long-sleeved to sleeveless T-shirts for cosplay fans
Men's T-shirts and polo shirts are available in many different designs. This starts for example with the length of the sleeves.
Sporty long-sleeved shirts with Kawaii motifs for cool days
Often you are faced with the dilemma that it is already a bit cool for a short-sleeved T-shirt, but still too warm for a sweater, jacket, hoodie or similar. Here the men's long-sleeved shirt is the best option.
You are comfortable, can move around well and don't get cold. Upper body and arms are well covered with perfect freedom of movement. Just the right thing for an active trendsetter. By the way, the choice of material is another way to keep the body temperature in a stylish way. For example, there are not only cotton shirts, but also fleece shirts.
Casual men tank tops for hot summer days
When it is really hot, sometimes you just don't want to wear a shirt at all. But of course that is not possible in most cases. Then you should choose the airiest alternative among our great t-shirts. The light jersey fabric lies comfortably on the skin and provides optimal air circulation through the deep armhole.
If you have worked on your upper body in the gym for a long time and would like to show the results, you should buy a tight-fitting muscle shirt.
Different cuts – above all a matter of taste
Nowadays there are many different cuts, sometimes tight and figure-hugging, sometimes wide and comfortable. You can also choose between a round or V-shaped neckline.
By the way, good T-shirts typically have a spandex portion, which ensures a particularly good fit and high wearing comfort. This is completely independent of colour or print and therefore also applies to the chic T-shirts for cosplay fans!
Combination tips for the Harajuku style
The typical harajuku style is typically achieved by combining several layers of clothing. Besides the Kawaii T-shirts, you can put a hoodie over them, put two different shirts on top of each other, use a vest and much more. You can find the right thing to combine in our shop under the corresponding category.
Fashionable Kawaii outfits for going out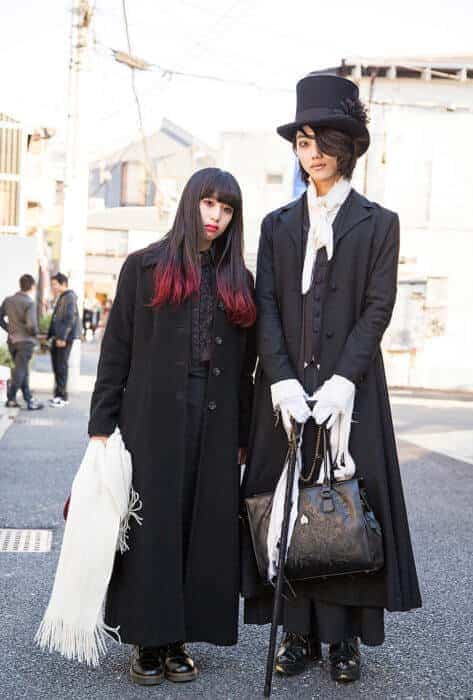 Of course you can also choose and combine Kawaii Fashion to achieve a more elegant appearance. This comes in handy if you go to a party, for example, but don't want to walk around with your normal day clothes. Here you can possibly choose a suitable combination of black t-shirts with hoodie and pants.
This is how you should look after your T-shirts and polos
Of course the dyed-in-the-wool Cosplay pendant hangs on his extraordinary T-shirts and wants to have fun with them for a long time. That's why you should pay attention to a few simple tips regarding care:
Be sure to follow the manufacturer's care instructions.
Sort your clothes by colour before washing. Otherwise, one of the garments could discolour and spoil the beautiful t-shirt.
It's best to turn the tops with the print inside out so that the print is not damaged by machine abrasion.
Shirts made of cotton or synthetic fibres can be washed at 40° C in the washing machine.
Shirts made of synthetic fibres dry quickly on the line, cotton shirts become nice and soft in the dryer.
For so-called functional shirts, you should avoid using fabric softener, as this makes the breathable fibres stick together.
Shirts with viscose or wool content should be washed in the wool or hand wash programme and hung on the clothesline to dry.
If you pull your shirt into shape while still wet, the side seams will not twist and it will look like new for a long time.