The greatest Kawaii Accessories
The Kawaii trend from Japan is also very popular here in Germany and in principle worldwide.
It is known to be a fashion and design style where everything is cute and sweet and somehow looks innocent. There are two major trends. Either the clothes look almost a bit like costumes from comics, anime, etc. and almost seem as if the wearer is on the way to cosplay. One can think of cute schoolgirl uniforms, French Maid, anime characters, etc. The second tendency is somewhat less conspicuous. At first glance, normal clothes like T-shirts, hoodies, leggings, etc. are printed with certain motifs. Gan especially knows everything about Hello Kitty, Pokémon, My Little Pony, unicorns and lots of glitter.
Kawaii accessories are the icing on the cake
In both cases, accessories are particularly important to give the chic trend its final touch. As with other fashion trends, the focus is on handbags, jewellery, hair accessories, etc.
In any case, it is important that the accessories are also cute and sweet. The items are always made as if they were made for little girls – be it in terms of size, colour or embroidered or printed decorations. Especially typical are accessory series with a certain character, such as the popular Hello Kitty.
So you can find cute cups, backpacks for school and similar things with Hello Kitty decoration. Often the accessories have decorations of frills, sequins, feathers, pearls, etc.
Not only classic fashion accessories are popular
However, you will not only find the classic fashion accessories described above in the online shop, but also many other accessories, such as key rings, brushes, and of course also Kawaiian style accessories. Here, especially cuddly cushions, blankets, pictures, posters and much more stand out.
So you can not only equip yourself with fashionable accessories for the perfect Kawaii outfit, but also style your room or even a complete apartment in the best Kawaii style.
Kawaii Jewellery – the most popular Kawaii accessory
Of course, Kawaii jewellery of any kind is especially popular – especially with young girls, who are the main target group after all. The numerous variations of earrings with motifs such as mascots, small animals, girls with big eyes, etc. catch the eye. Usually the jewelry is in bright colors, or of course in childlike pastel shades. Matching this, there are usually of course also pendants for the necklace, bracelets, brooches and rings.
The popular charms are of course also a big hit – i.e. small pendants for bracelets that you can put together yourself according to your own taste. Here it comes partly with Kawaii fans to a real collector's cult.
Without hair accessories the Kawaii look is incomplete
To the real Kawaii style belong very specific hairstyles. Usually the hair is pinned up or tied together in typical schoolgirl hairstyles. Classic are high ponytails and braids, often in combination with a hairpiece. In any case, Kawaiian accessories like bows, frills, etc. belong to the hairstyle. The cuter the hairstyle, the better. Highlights may fall out and the hair may look a bit cute and tousled. Perfect, strictly pulled hairstyles don't fit, because they look older and more serious and not childishly innocent and sweet.
Kawaii Accessories in our Online Shop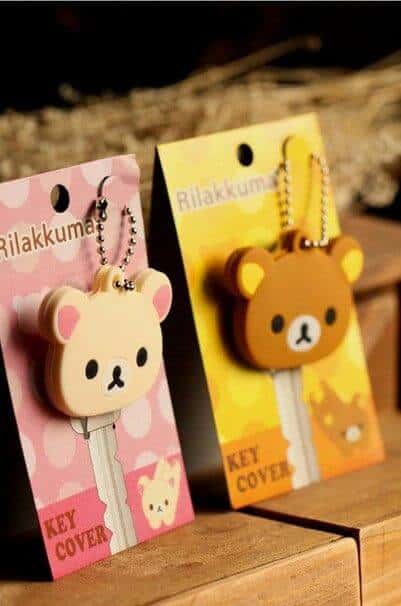 Of course you can find a lot of matching Kawaii accessories to the great clothes you find at and in our online shop. As real experts, we know that a real Kawaii look can only be achieved with the right accessories. Therefore we offer you a wide range of cute jewellery, cute hair accessories and of course other things with which you can give your life a real touch of Kawaii. Have fun choosing!